We are an outcomes-focused institution
Our student's outcomes have always been our greatest metric for success and we are taking strides to share their stories by auditing and publishing our students' outcomes. Last year we became the first European Bootcamp to release independently audited outcomes data. We remain committed to delivering accurate, verified numbers and we work with PwC, a top-tier accounting firm, to audit these results before making them public. We are excited to reveal our most recent outcomes report for the first half of 2019 which includes over 800 part-time and full-time graduates from our 9 global campuses in our Web Development, UX/UI, and Data Analytics programs.
The numbers at a glance
Our detailed outcomes report shows the numbers behind our Ironhacker's stories with key metrics such as graduation rates, placement rates, and average salaries broken down by program type and campus.

Here is a quick overview of our metrics from the first half of 2019: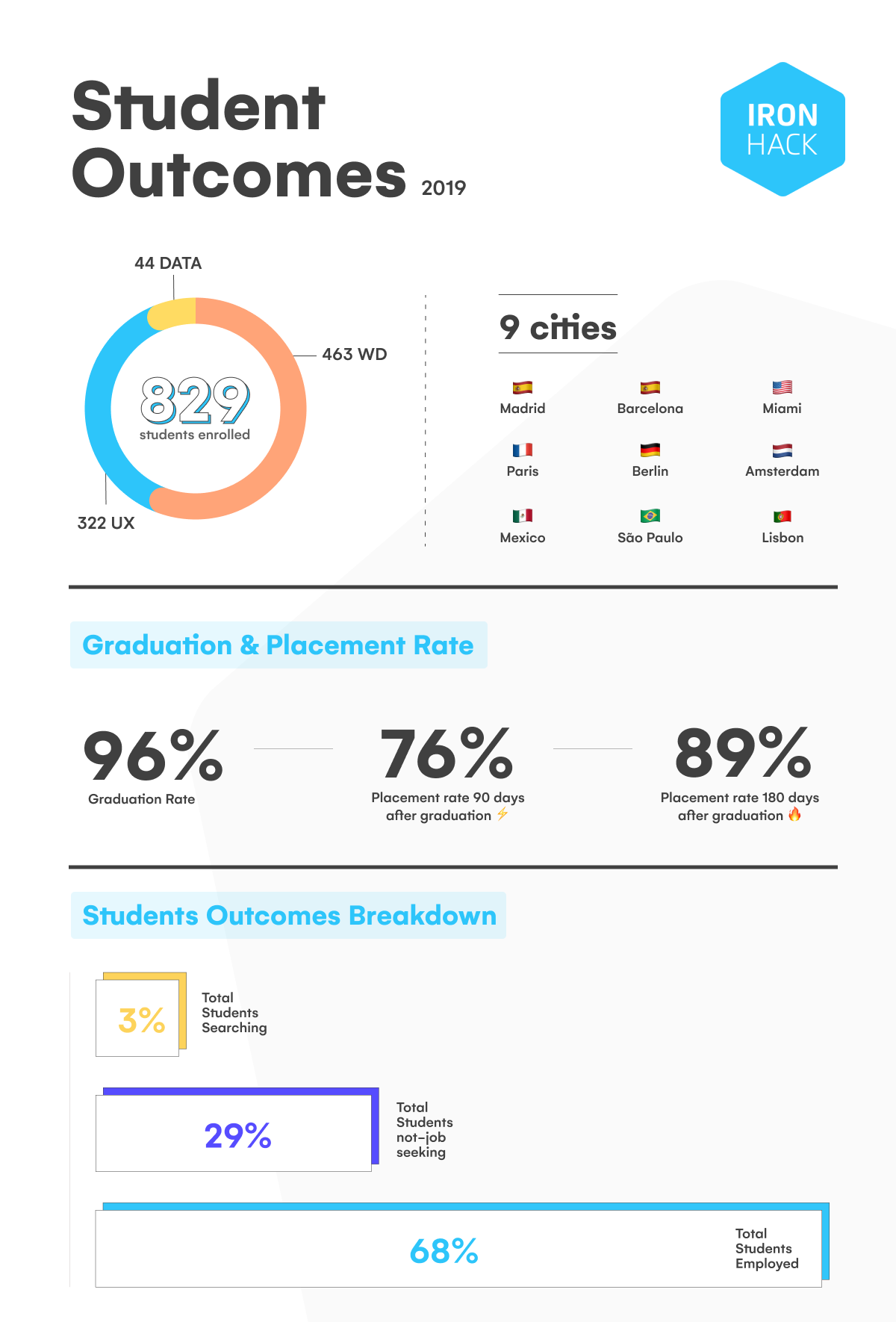 In addition to the above statuses and metrics, our outcomes report also includes access to the Ironhack Outcomes Reporting Framework, which was developed based on principles for reporting non-financial indicators used by top companies. The Framework goes into detail regarding the criteria and requirements behind each of the statuses outlined above and the definitions for each of the metrics we publish. We have taken and will continue to take great strides to make our reporting as comprehensive and transparent as possible.

Download our full Outcomes Report for the first-half of 2019 to dive deeper into the numbers and our framework.
What do our students say about us?
Ironhack Miami was the best academic decision I've ever made. I graduated from USF with a bachelors in Chemistry and the job outlook wasn't fantastic. After having previous experience with web design I decided to attend and after 9 weeks of hard work I managed to graduate the bootcamp and even land a job at directly through their Career Coach right after graduating. You really can't go wrong with this school -- relevant tech stack, professional development, awesome instructors/staff, and even beer on tap. You will not regret this decision! At the end of the day you will get out exactly what you put in.
Parker Cooper studied Web Development at Ironhack Miami (August 2019) and now works for Media Query
Ironhack has been a life changing experience. They do not just offer the path to help you pursue your goals, they also give you the opportunity to meet people who share your same interests. Since the very beginning, I have felt that Ironhack and the Outcoms team were 100% involved in my work future. They analysed my profile and guided me through difficult choices about my professional future as a developer. They knew exactly how to proceed, giving me specifical rcommendations on what was the best for me.
Javier Aceña studied Web Development at Ironhack Madrid (January 2019) and now works for Innocv.
Ironhack is a GAME CHANGER! After doing a ton of research, I chose Ironhack Miami based on reviews, application interviews, and job placement rates. I did the full time UX/UI course and I truly believe I made the best choice. The teachers are so caring and knowledgeable, and I can't even believe how much I've learned in ten weeks. The network of global alumni is great – Ironhackers are always there for Ironhackers. It makes getting help, finding a mentor, and networking for jobs so much easier. Our Career Coach was THE MAN. He was super amazing in giving us all the tools we need to find a career we love. I recommend Ironhack a thousand times over. I keep trying to make my friends come so they can have the same great experience that I did.
Ally Campbell studied UX/UI Design at Ironhack Miami (August 2019) and now works for Reef Technology
The Ironhack Bootcamp was an absolutely amazing experience. I have learned a lot and our teachers supported us at any time which really boosted my confidence as a UX Designer. On top of that, I was super lucky that I was able to build friends that helped to accomplish all challenges during that time
Frederike Higgs studied UX/UI Design at Ironhack Berlin (August 2019) and now works for JustGo.Design
Why we do what we do
When Ironhack was founded in 2013, our vision was to fill the gaps of traditional education and offer talented, hard-working individuals a lower barrier to entry for a growing field. For significantly less time, our programs give students hands-on experience with real projects that help them create competitive portfolios. Not only do our students gain proficiency in the most important tools and skills needed in their day-to-day work, but they graduate with access to a network of professionals that includes our graduates, design and tech leaders, and hiring partners that are leading the way towards a more meritocratic job market with recruiting based on required skills and a candidate's ability rather than just a degree. Our hiring partners know that Ironhack graduates don't just grow into a role, they learn and evolve beyond it to become leaders and mentors, taking an active part in their companies, industries, and communities.
We have always been focused on people and their stories. This begins with our staff and ends with our students and their outcomes. We have developed an amazing team of passionate industry professionals whose can-do attitude and go-getter spirits have helped us graduate more than 6,000 students. Our rigorous programs are demanding and we are always thankful for the trust our students place in us and the dedication of our teaching staff who bring everything they have to the classroom.
What's coming next?
With more than 6,000 graduates and 9 global campuses, we continue to prove that our model works and that our programs make switching careers both possible and accessible. In the wake of COVID19, we are even more aware of the importance of educational models like ours that allow dedicated learners to upskill and work in a growing field.
As a company, we will continue to expand our curriculum and product offerings, both on- and off-campus, to meet the constantly evolving challenges of industry demand. We will keep refining our admissions process to ensure that learners with untapped talent, potential, and drive are selected for admission. We will work to provide more financial access to our programs through internal initiatives and external scholarship partnerships. And we will expand our post-graduation programs to offer more opportunities for mentorship and increased access to our network of hiring partners.

Regarding reporting, we will keep auditing and publishing our students' outcomes and improving our reporting standards while keeping an open dialogue with other players and coalitions in the industry in the hopes of uniting under a common framework in the near future.
Keep an eye out for our next Outcomes report, S2 2019, that will be launched in January.